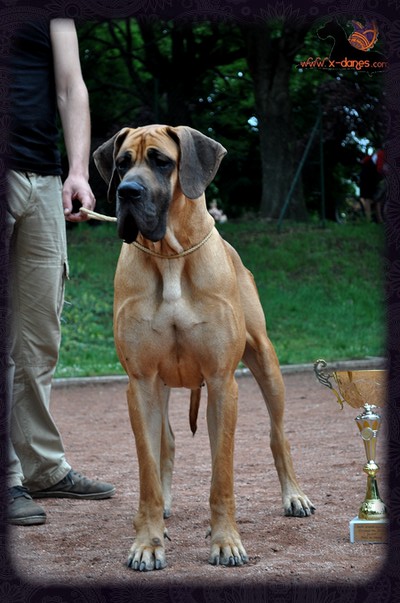 D.O.B.: 31.01.2014.
Breeder& Owner : Bernadett Tóth & Norbert Harmat
INTERCHAMPION
YEAR WINNER GREAT DANE IN HUNGARY'15
Croatian Champion
Hungaria Champion
Junior Champion of Bosnia and Herzegovina
Junior Champion of Slovakia
Junior Champion of Hungary
BIS III. (DDK 2015 Special Show)
JUNIOR BISS (DDK Clubshow)
JUNIOR BIS II (Molos Clubshow BiH)
JUNIOR CLUBWINNER'15 (DDK)
BEST BABY IN 2014 (DDK)
Top Dog of the year 16th place of all colour in 2014
JUNIOR CLUBWINNER'14 (HKND)
BABY BIS I. (DDK Clubshow)
Baby Clubwinner'14 (DDK Clubshow)
Puppy Clubwinner'14 (Molosser Club SRB)
PUPPY BIS (Special GD Show DDK)
5xVery promising I.
14xJunior Winner
15x CAC
7x BOB
6x CACIB
1x Res.CACIB
1x Res.CAC
1x Res.CACIB
7x BOS
7x JBOB

Rafal of Island's Dream


Clinton vum Rotscheid

Satchmo des Terres de la Rairie

Zoé vum Rotscheid

Hesione of Island's Dream

Freiser de Vinazas

Calliope of Island's Dream

Harmonie of Gold Giant


Féton Expletus Hungaricus

Jemiroqui Univers

Méherzugi Mumin

Energy of Gold Giant

Centurio v.Starophramen

Dog Flandres Karma